Marine Biologist/Instructor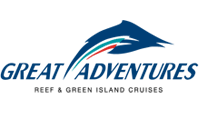 With operations based in Cairns, Port Douglas and Green Island, the Quicksilver Group is Australia's leading Great Barrier Reef tourism company. Our multi-award winning company comprises of Quicksilver's Outer Reef and Low Isles Cruises, Great Adventures Reef and Green Island Cruises, Silver Series, Quicksilver Dive Centre Port Douglas, Ocean Spirit Michaelmas Cay Cruises, Pro Dive Cairns, Seawalker Green Island and the eco-sensitive Green Island Resort.
Great Adventures has an opportunity for a dedicated professional who will assist in providing exceptional customer service to our guests to fill the above position in Cairns.
As a Marine Biologist in our busy Dive department, you are expected to demonstrate exceptional customer service with both our internal and external guests. Reporting to the Dive Manager, you will be responsible for conducting educational and informative guided snorkelling tours, on-board presentations and informative beach island tours on Green Island and our Outer Reef destinations.
Responsibilites:
Delivery of exceptional customer service with both internal and external customers
Provide safe, comfortable and efficient service in delivery of educational and informative experiences to Great Adventures passengers
Provision of dive instructing and guiding of passengers
Lifeguard and lookout duties
Ability to sell and upsell dive products and services
Ability to work as part of a team
Good english skills
Requirements:
Effective communication skills in with internal and external customers
Ability to work a roster over a 7 day rotation
Provide First Aid, Advanced Resuscitation and CPR (Must be current for 12 months)
Bachelor of Science in relative Biological field (Highly regarded)
Master Reef Guide Certification (Higly regarded)
Current Coxswains Certificate (Desirable)
PADI OWSI
Current Dive Insurance
If you love showcasing the beauty and diversity on the Great Barrier Reef and working with likeminded people, if you are wanting to further your skills and knowledge within the Tourism Industry accompanied with a reputable company, then this is the position for you.
---
To apply for this position, please visit the link below or scan the QR code to the left.
Link for applying to this position: