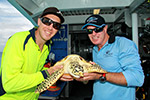 Harry the Hawksbill Turtle is one lucky turtle! After a very lengthy rehabilitation, (833 days to be exact!) he's now back home on the Great Barrier Reef thanks to the crew aboard our dive & snorkel catamaran, Silverswift, and the wonderful work of the Cairns Turtle Rehabilitation Centre.
»

Back in October 2013, Harry was found by the Silverswift crew floating at one of our Flynn Reef dive sites. The crew named him Harry the Hawksbill and brought him to the Cairns Turtle Rehabilitation Centre (CTRC). He was so small, he fit into the palm of your hand and was estimated to be about 3-6 months old and now is thought to be about 3 years of age.
Harry was released back into the wild on the 19th of January 2016 with a satellite tracker and judging by the satellite image, he's having a great time!
Jennie Gilbert, co-founder of the Cairns Turtle Rehabilitation Centre said, "He was the smallest Hawksbill that has been brought into our care. He's a particularly special turtle because we know very little about their early lives up to the first 5 -10 years, which is largely unknown and referred to as the "lost years".
The satellite tracker which will provide invaluable information about his travels to gain a better understanding of how they live during this time of their life.
Sam Killian, Silverswift dive crew along with 4 other crew who helped rescue Harry were onboard to assist in releasing Harry back into the waters at Flynn Reef. Sam said, "It is amazing to think that Harry has been in care for this long and it is a privilege to see how well he has done under the care of Jennie and her volunteers from the CTRC."