Welcome to our Winter issue of Quickies
Keeping you posted with some of our latest news and happenings.
It's been party time here in the Tropical North with a bit of good old fashioned showing off, both in and out of the water! On dry land, the Quicky crew dazzled in the annual Port Douglas Carnivale Street Parade, winning the best business float with their interpretation of Mythology of the Sea. We've hosted a few celebrities, the minke whales have been making their way to our Great Barrier Reef waters and for some first class showing off, we took time out to film our all Australian built fleet of day touring vessels. We've even had a marriage proposal on the Reef to celebrate! We were also once again pleased to host the Quicksilver Reef Swim at Green Island with lots of fit people taking to the water in this lead up event to the Cairns Ironman.
Our Great Barrier Reef sites off Cairns and Port Douglas in general are in the process of recovering from the thermal stress experienced earlier in the year. As always, our passengers are continuing to see and experience the wonders of this magnificent living natural icon. Be sure to check out some of the latest images from our reef sites at Great Barrier Reef Health Information.
We hope you enjoy a break with our latest Quickies!
With warm tropical wishes from the Quicksilver Group Crew.
News
Showcasing our all Australian built fleet
It was quite an impressive sight we think you'll agree as our all Australian built fleet of day touring vessels posed in the waters off Port Douglas and Cairns over two magical early morning photos calls.
Like the supermodels they are, the fleet showcases the power and stability of our wavepiercers and catamarans to the grace of our sailing vessels. Blanketed in morning sun against the mountainous backdrops, these 11 vessels represent the largest and most sophisticated fleet of custom-built Great Barrier Reef vessels.
Absent from the photo shoot, Pro Dive Cairns' three liveaboard vessels were on location at the Outer Reefs off Cairns doing what they do best, showcasing the wonders of the Reef.
Quicky crew wows in Port Douglas Carnivale Street Parade
Friday 26 May saw the main street of Port Douglas light up with a magnificent parade of floats all created by a cluster of local businesses as they made their way to the Sugar Wharf. Joining in on the fun of Port Douglas Carnivale, was our very own Quicky crew, who created and brought to life a vision of Mythology of the Sea.
The team not only brought bundles of laughter and smiles but also took home the Best Business Float Award for their amazing float and costumes designs. Quicksilver customer service supervisor and organiser, Amy Waller, said the Carnivale Street Parade is such a wonderful community event in which Quicksilver always looks forward to being a part of. "It is always a thrill and awesome to see familiar faces in the crowd," Amy said. Amy also expressed her gratitude to everyone involved. Stay tuned for information about the 2018 Port Douglas Carnivale, It's a great time to visit!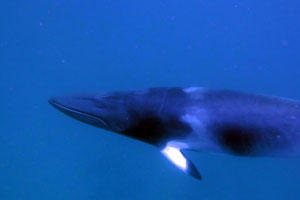 In the swim with the Minkes
It's about this time of year that we start to get a little bit excited about welcoming some bigger visitors to our region. The first arrivals of the dwarf minke whale have already been sighted in our Northern Great Barrier Reef waters.
While never guaranteed, from our experience, July to September is the peak season to encounter the inquisitive minkes as they frequent the Agincourt ribbon reefs where our dive and snorkel vessels Silversonic and Poseidon visit. And with two of the three Great Barrier Reef Marine Park Authority permits in the region that allows our guests to swim with the minkes, it offers a truly magical and privileged experience.
Following strict codes of practice, if a minke approaches, a maximum of two surface ropes are placed into the water with swimmers positioned 3-4 metres apart. The whales actually control the encounter in that they decide how close they interact and swim with us!
The Dwarf Minke Whale Tourism Monitoring Program was a world first fully permitted swimming-with-whales program and is conducted in partnership between the GBRMPA, researchers and the tourism industry of which the Quicksilver Group contributes.
Ironmen and women tackle Quicksilver Reef Swim
Sunshine and blue skies set the scene on a beautiful June morning at Green Island as over 130 swimmers took to the clear waters for the annual Quicksilver Reef Swim. As a lead up event to the Cairns Airport Adventure Festival and Ironman Cairns, the event offers a very unique Great Barrier Reef experience with swimmers seeing turtles, coral bommies and colourful reef fish as they tackled the course.
A strong local and Australian contingent joined an international field of swimmers from as far as Germany, Japan, New Zealand, the UK and US. Now in its 6th year, Quicksilver is proud to host this amazing reef swim and continued association with Cairns Ironman and the Cairns Airport Adventure Festival. Congratulations to all competitor and to Ebony Crowe from Cairns and Matthew Pegg from Townsville on taking out the women's and men's 3km event.
Photos by Hiro Nagano
After 40 years, Linda cruises to retirement
Having seen the growth, changes and challenges of our region's tourism industry over a remarkable 40 years, the Quicksilver Group's longest serving employee, Linda Gerekink, has recently cruised into retirement.
It was 1977 when Linda joined Hayles Cruises, the present day Great Adventures, with only four office staff and a total of around 20 people including the boat crew conducting daily cruises to Green Island.
Linda retires as Great Adventures' Financial Controller and over the years has seen the company, now part of the Quicksilver Group, grow to a workforce of more than 600 locals.
"In the early days, we did everything, from selling the tickets to cleaning the office, delivery of brochures and writing the ads. Over the years, some of the biggest changes have been the introduction of high speed vessels to the reef, more government rules and regulations and of course the introduction of computers, but as my background was in mechanical accounting machines it was not too difficult."
There have been many memorable moments over the years but a definite highlight would be Great Adventures world water ski records. Professionally, a major achievement was involvement in writing a private ruling that eventually resulted in changing the tax definition of surface travel and relevant fringe benefit tax.
After forty years, Linda said, "I have been given many opportunities to progress within the company and I have enjoyed all my time here. I have seen many people meet their husband and wife here and it has always been a company that values its staff."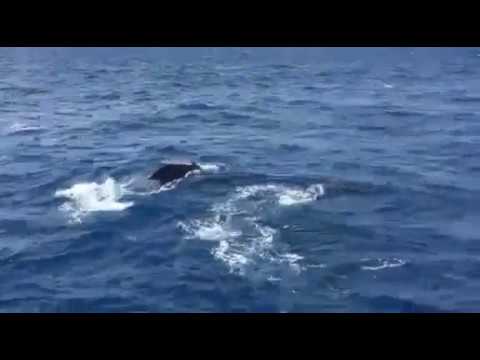 Totally whale of a time with Pro Dive Cairns!
Pro Dive Cairns passengers and crew were treated to a very special encounter of the humpback kind on Monday 26 June. After an awesome 3 days of diving and snorkelling, leaving Flynn Reef to return to Cairns, two juvenile humpback whales were spotted travelling north and decided to drop by to say hello.
With the vessel stopped the whales were curious as they swam around liveaboard dive boat Scubapro 2 for a few minutes before heading on their way to explore the Great Barrier Reef.
Humpbacks are generally seen on the Great Barrier Reef between the months of June to September with regular sightings at the Outer Reefs, bringing an added bonus for passengers at this time.
Humpback whales regularly migrate from Antarctic waters along the east coast of Australia every winter to the warmer waters of the Great Barrier Reef to breed and calve. They are easily identified by having extremely large pectoral fins (their scientific name is Megaptera, which literally means giant wing), and scalloped flukes. They grow up to approximately 16 metres in length, weighing in at 30-50 tonnes. Male humpbacks produce "songs", which are believed to attract females at mating times.
Thanks to Jordan McDonald for the video footage.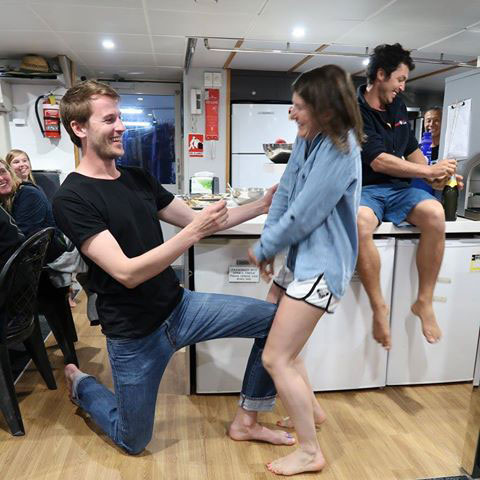 Love in the air, taking the plunge!
Pro Dive Cairns caught the love bug on a recent 3 Day/ 2 Night liveaboard trip with one love-struck Swiss couple taking the plunge quite literally. After diving the Great Barrier Reef, Quintus decided to take another plunge and declared his love for Angela by popping down on one knee and proposing. Congratulations and best wishes for the future Quintus and Angela!
Seen on the Reef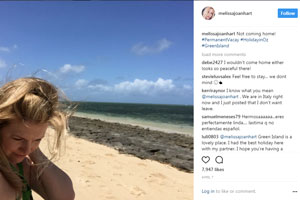 Sabrina the Teenage Witch
American actress Melissa Joan Hart perhaps best known for her role in the 90s television show, "Sabrina the Teenage Witch", enjoyed a quiet retreat to Green Island Resort with her husband and children. We loved Melissa's Instagram post "Not coming home" #PermanentVacay #GreenIsland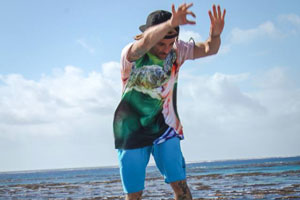 Nitro Circus
The daredevil boys from Nitro Circus, complete with stunt bikes, were out finding Nemo on Quicksilver's Outer Reef Cruise to Agincourt Reef before performing their thrill seeking action packed show in Cairns.
Events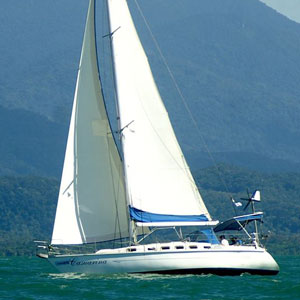 16 - 20 May 2017
Quicksilver Port Douglas Race Week 16 - 20 May
The Quicksilver Port Douglas Race Week kicked off in spectacular style experiencing light to high wind conditions over the week with race organisers declaring the regatta a great success.
We were delighted to host the "Skippers Welcome" aboard our very own sailing catamaran, Wavedancer, for a two hour cruise in the lead up to the regatta – the perfect venue for a bunch of yachties!
Congratulations to the overall winners:
Division 1
Wayne Mille – Yacht: Zoe
Division 2
Helen and Mick Gwilliams – Yacht: Lady Mystique
Sports Division
Peter Vincent – Yacht: X2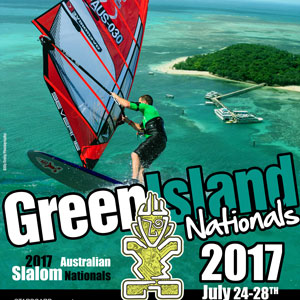 24 - 28 July 2017
Green Island Windsurfing Nationals, 24-28 July
Back for the third year, a contingent of thrill seeking windsurfers will be returning to Green Island to battle out the 2017 Green Island Windsurfing Nationals. There will be an Open category event and 2017 AWA Australian Championship titles.
If you're visiting Green Island at this time, be sure to check out the action from the beach.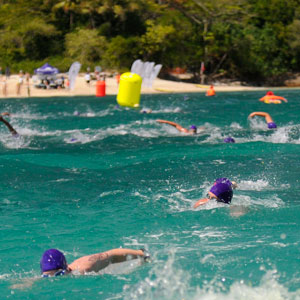 27 August 2017
Great Adventures Green Island Ocean Swim, Sunday 27 August
Our annual Great Adventures Green Island Ocean Swim will see swimmers compete in 500m, 1.5km and 3km distances in this unique Great Barrier Reef swim.
Competitors aged 12 years and over are eligible to enter. For more info or bookings, contact Great Adventures on 4044 9944 or book online at
Bio Bits
Parrotfish
The Great Barrier Reef is renowned for an abundance of fish species and of the 1600 types, the ubiquitous Parrotfish family is probably the most easily recognised. There are over 30 species of parrotfish on the Great Barrier Reef, and all share a few common traits. The most obvious of all relates to their teeth. Parrotfish evolved from the carnivorous wrasse family, but through the course of time, their teeth have moved forward on the jawbone and reduced in size. Eventually, the teeth fused together, creating a very useful tool for scratching algae off the surface of the coral.
Another interesting fact about the Parrotfish is when they sleep at night, they often secrete a mucus sleeping bag around themselves for protection from predators. The bags also have antibiotic properties that are beneficial for the fish. Check out the video.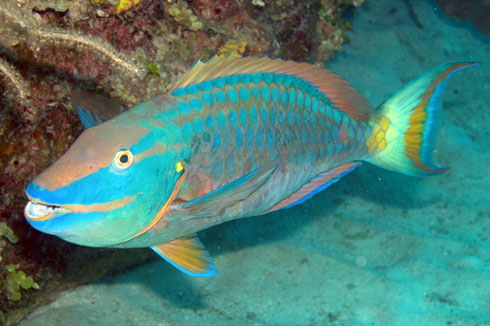 The Zoo

Tara
We'd like to introduce and welcome aboard Tara Reynolds, who is our new Ocean Spirit and Quicksilver Sales Executive for the Cairns and Northern Beaches local market. Tara joins us from a tourism sales background, most recently with the Reef Information Centre, and has an intimate knowledge of our wonderful range of reef experiences.
Tara can be contacted at [email protected]
Postcard
Wavedancer Low Isles

Special thanks to Lynda from Exclusive Destinations for sharing her fantastic panorama photo of Low Isles, taken from onboard Wavedancer which she was delighted to say was the highlight of her trip to Australia. Thanks Lynda and we look forward to seeing you again!
Quickbits
Keeping Ship Shape: Our fleet maintenance and engineering teams have been kept busy with our program of annual refits ensuring our vessels are in peak condition. In the first half of the year, refits have been conducted on our dive and snorkel vessels Silversonic and Poseidon, Wavepiercers Quicksilver V and VIII, Great Adventures' Reef King and Green Island Express, and sailing cat Ocean Spirit. Phew!
ATE: As always, it was great to catch up with so many of our industry friends and colleagues at the Australian Tourism Exchange in May. We were also delighted to welcome many agents and media to the Tropical North to experience our wonderful range of products first hand.
Reef Events: We've relaunched our Reef Events www.reefevents.com.au website designed specifically to showcase our Business Events and Incentives opportunities. So if you're looking for event, incentive or private charter ideas, this is the site for you!
Lycra Suits: As of 1 April, lycra suits are included on Quicksilver's Outer Reef Cruise and Great Adventures Outer Reef Cruises. This means lycra suits are now included on all products with the exception of Green Island day cruises where they can be hired from the Dive Shop if required.
Did you know we're on Instagram?! @ReefCruises and @ProDiveCairns